Two children died and another child from nearby town (Tagoloan, Misamis Occidental) died from Meningococcemia, a type of infection caused by bacteria known as . Based on the report, it was last Tuesday when City Health Officer Doctor Fe Bongcas made the confirmation regarding the cause of death of 2 children.
Among the children who died of meningococcemia is the uncle of one patient, who felt ill on Thursday and then brought to Northern Mindanao Medical Center. By Friday, the patient died.
The child, according to the kin is just a grade one student and even went to school while having a fever. It was so sudden that the kid fell very ill and died. They buried the body immediately as per advised by the physician.
As a way to prevent contracting the disease, classmates, friends, teacher and families who had close contact with the patient were immediately given antibiotics. The identities of the patients are not disclosed due to privacy reasons.
What is Meningococcemia?
Meningococcemia is a bacterial infection caused by 'neisseria meningitidis' and it affects the patient by spreading the bacteria into the bloodstream. If left untreated upon the onset of symptoms, it cause shock leading to death. The progression of the disease occurs in just a short period of time so it is important to seek medical help immediately.
Symptoms of Meningococcemia
Patients who contracted the disease may present with having meningitis as well. Symptoms of acute meningococcemia include headaches, cough, throat soreness on the first days. It will then be followed by chills, high fever, present upper respiratory infection, body weakness, lethargy, nausea, vomiting and then rashes may appear (50%) of most cases. It is also noticeable that patients with meningococcemia may experience stiffness of the neck and photophobia.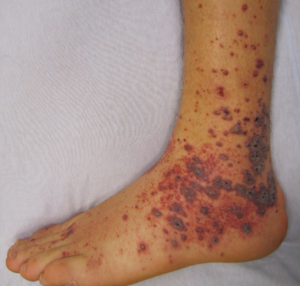 Rashes usually occur on the limbs and stomach and it appears like a petechial skin rash or tiny pinpoint dots which are red in color. As the disease progresses and going on critical stage, petechiae will turn into purpura which appears to be big red spots.
Tips to Prevent Meningococcemia
Basic hygiene like washing your hands and covering nose when someone is sneezing or coughing can help you prevent getting the disease. It is also important for people to avoid close contact with person affected with meningococcemia, including the use of their personal belongings.
As a precautionary action especially if you have had a contact with a person who have been ill, antibiotics will be given. In addition to that, to keep everyone in the family protected from meningococcemia, a vaccine is highly recommended.