Since the other day, everyone's Facebook news feed was crowded with the scare post stating that Facebook is going to invade user's privacy and make photos public. It even says that deleted photos, messages, and other confidential info about a user will be revealed openly. Much to my surprise, the post spread like wildfire and about 8 out of 10 friends copied and pasted the said message and posted it on their wall.
It goes on and even declared that by copying and pasting the same message on the Facebook user's wall, they will become immune to the said privacy breach and will be skipped. Here is a screenshot of the message revolving around Facebook for a couple of days now: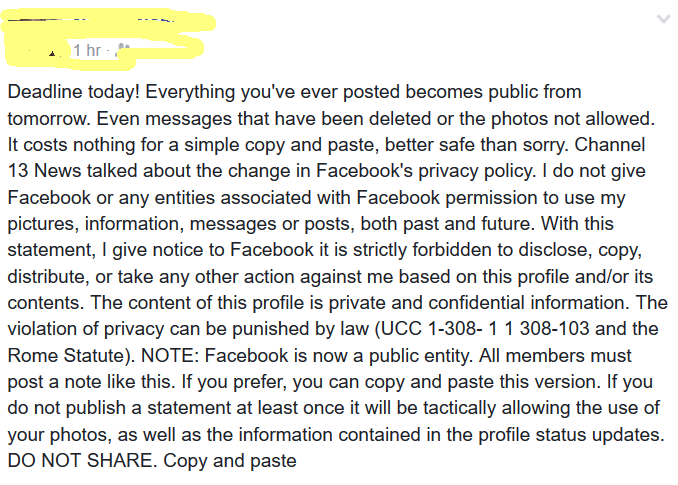 Read the post here in full:

Deadline today! Everything you've ever posted becomes public from tomorrow. Even messages that have been deleted or the photos not allowed. It costs nothing for a simple copy and paste, better safe than sorry. Channel 13 News talked about the change in Facebook's privacy policy. I do not give Facebook or any entities associated with Facebook permission to use my pictures, information, messages or posts, both past and future. With this statement, I give notice to Facebook it is strictly forbidden to disclose, copy, distribute, or take any other action against me based on this profile and/or its contents. The content of this profile is private and confidential information. The violation of privacy can be punished by law (UCC 1-308- 1 1 308-103 and the Rome Statute). NOTE: Facebook is now a public entity. All members must post a note like this. If you prefer, you can copy and paste this version. If you do not publish a statement at least once it will be tactically allowing the use of your photos, as well as the information contained in the profile status updates. DO NOT SHARE. Copy and paste
It's Clearly a Hoax

Facebook offers its users a way to control who can see their post by configuring their privacy settings. These posts making noise around the internet and instilling fear among FB users is completely a lie.There is no way that Facebook is going to break their own rules about privacy. Doing so will harm their reputation.
Don't be tempted to copy and paste the message to your own wall because doing so will not only annoy your friends, but also, you are giving a good laugh to the hoaxer who started it all.
Facebook issued an official statement about the post telling and reassuring that its users are the only one that can control their own privacy. They also stated not to believe the message spreading around Facebook.